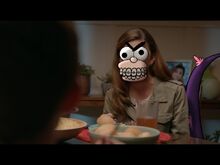 Dawnzilla
is the monster drawing that Kirby Buckets drew of his older sister
Dawn Buckets
. She is a evil monster tries to take over the world and hates the Buckets Family, Fish and Eli.
Enemies
Kirby Buckets
Fish
Eli
Dawn Buckets
Trivia
On ROBLOX, in the event Hallow's Eve 2014, Dawnzilla appeared as a rare enemy that cannot be harmed by candy, instead, the players must use the Eraser Cannon, a bazooka that resembles a pencil with an eraser.
In the Pilot Dawn explain that she spend 300 hours making herself beautiful and bribed her dentist to remove her braces early.