Eli Porter

Portrayed By Cade Sutton

Name:

Eli Porter

Gender:

Male

Age:

13

Eye color:

Brown

Hair color:

Light brown

Friends:

Enemies:

First Appearance:
Eli Porter[1] is one of the main characters in the series, Kirby Buckets. He is a best friend of Kirby & Fish.
Personality
Eli Porter is the best friend of Kirby and Fish and he is very sensitive and he is also very compassionate and, he is very loyal to both Kirby and Fish and considers them his brothers as he grew up alone.
Physical Appearance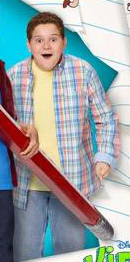 Eli can be described as chubby with curly brown hair and brown eyes.
Trivia
He ususally is very nice and kind towards people
Similar to Kirby and fish has a crush on News reporter Kirk downes
References